Description
A song for youth that supports the 2016 youth theme:
Wherefore, ye must press forward with a steadfastness in Christ, having a perfect brightness of hope, and a love of God and of all men. Wherefore, if ye shall press forward, feasting upon the word of Christ, and endure to the end, behold, thus saith the Father: Ye shall have eternal life. (2 Nephi 31:20)
Vocal/piano demo included with sheet music download. Vocals by 12 year old Benson Baril.
Piano accompaniment for learning with the youth also available for download with sheet music.
PRESS FORWARD IN THE TRUTH
We are on a path that leads us Home
To our Father, whom we've always known.
And with all of our strength, even when it's steep,
We must keep on climbing.
We have cov'nants to keep.
We will press forward in the truth
With steadfast faith in Jesus Christ
Hope alive; perfectly bright
With love of God and of all men.
We must feast upon the word of Christ,
And to the end endure
For if we do these things, says God,
Eternal life is sure.
Many things distract us on our way
Calling out to tempt and lead astray
But the spirit will guide when we live His word
If we keep our focus
Our safety's assured.
Repeat Chorus
For if we do these things, says God,
Eternal life is sure.
Copyright © 2015 by Sara Lyn Baril. All rights reserved.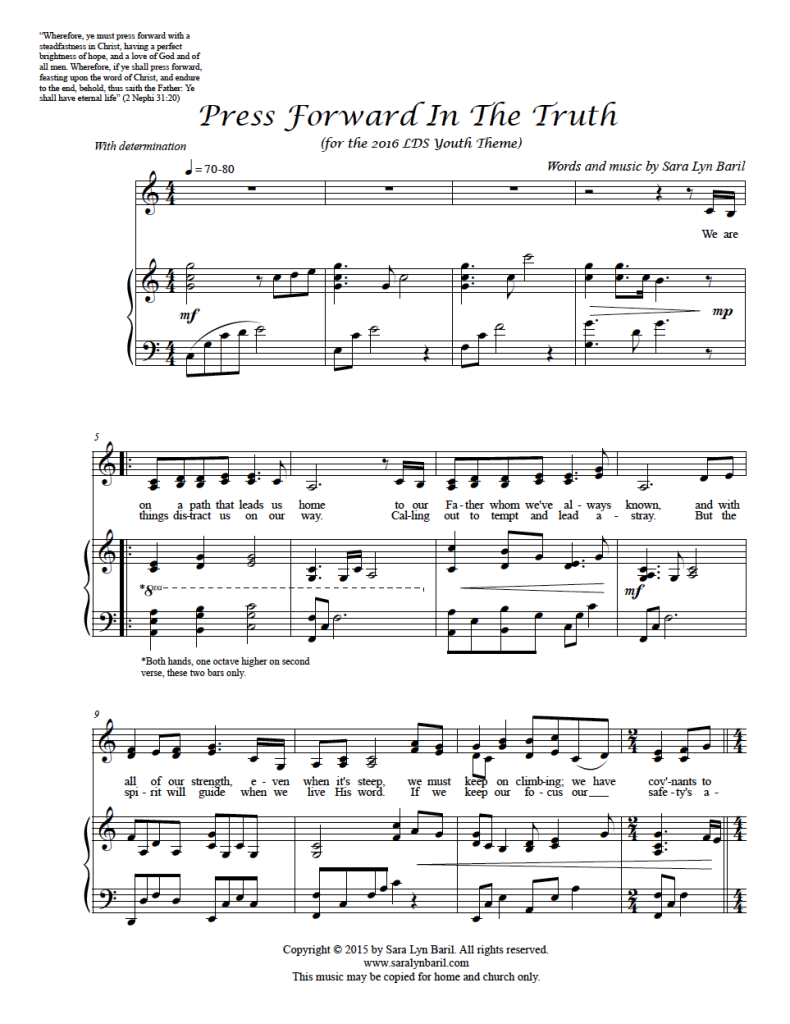 NOTE: Upon purchase of digital (PDF) sheet music or MP3s,  you will be sent an email with a DOWNLOAD link.  PLEASE MAKE SURE YOUR EMAIL IS CORRECT so your download doesn't get lost in cyberspace. It must be downloaded to your computer and can be saved to your mobile device from there. If you don't receive this confirmation email, please check your spam folder.
SHEET MUSIC: If you require multiple copies, purchase the number of copies needed. A purchase of 1 copy of sheet music is a license to print ONE copy. Please direct others to purchase their own copies. For home or church purposes, multiple copies can be made for a performance (e.g. vocalists and pianist) with the extra copies to be destroyed afterwards.