Description
A reverent Christmas hymn. Vocal solo. Available in a high, medium and low range. All 3 vocal ranges included in download.
Note: The recording is just a rehearsal with my good friend Karma Olsen and my son, Benson. They are just learning it. Benson's alto is his interpretation. It's not on the sheet music, but I may have to consider making a duet version available.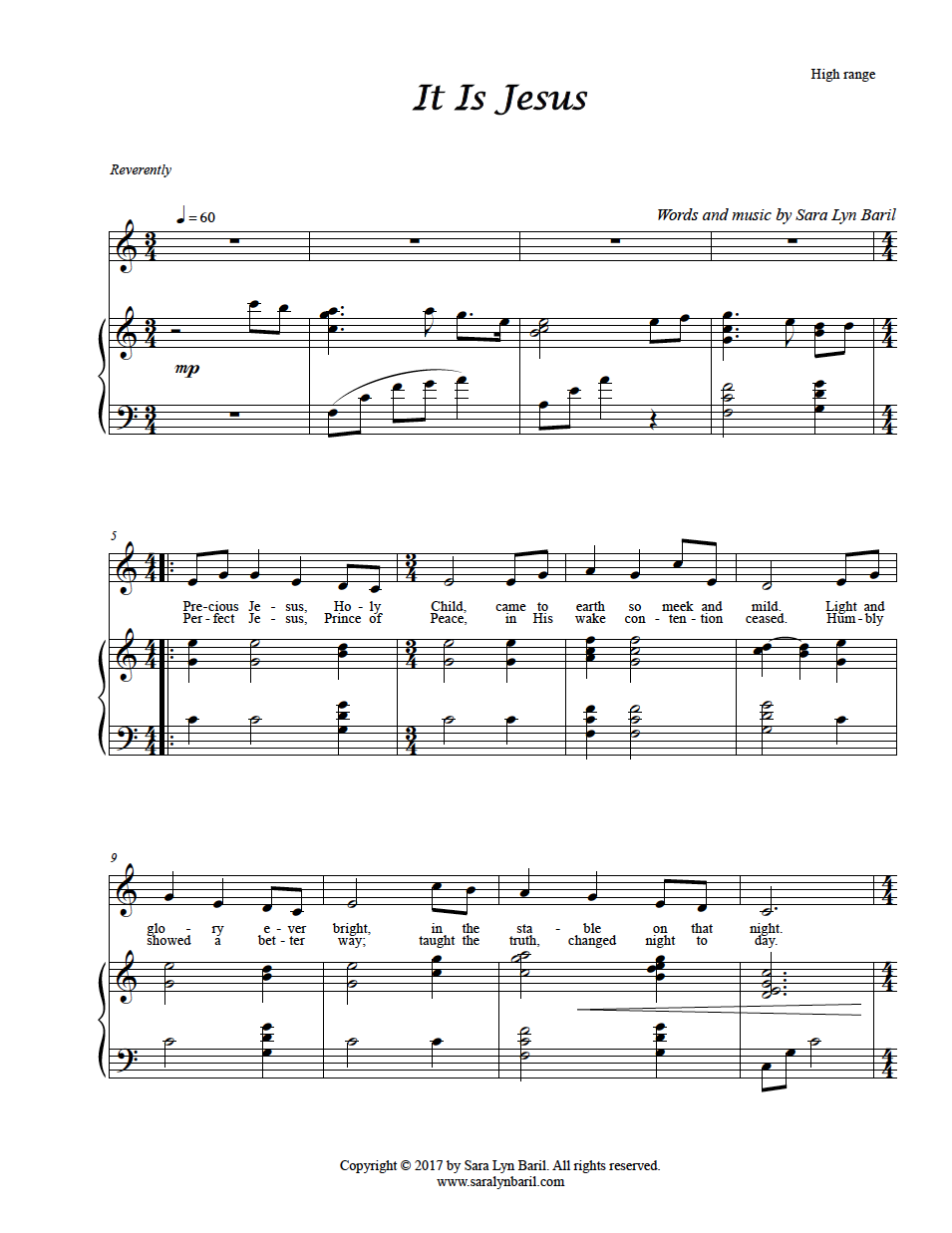 It is Jesus
Precious Jesus, Holy Child,
Came to earth so meek and mild.
Light and glory ever bright,
In the stable on that night.
Shepherds hastened to behold;
'Twas Messiah long foretold!
Precious Jesus, finally came.
Blessed be His Holy name.
Chorus
It is Jesus, Lord and King.
And for Him our praises sing!
He is Truth, the Light, the Way
That we worship Christmas day.
Perfect Jesus, Prince of Peace,
In His wake contention ceased.
Humbly showed a better way
Taught the truth, changed night to day.
Came to heal the wounds from sin
For all those who let Him in!
Perfect Jesus, Son of God
May we in His footsteps trod.
Repeat chorus
Gentle Jesus, Holy One
Suffered all to overcome
Pain and sorrow, sting of death;
Brought new hope, eternal breath.
More than just a baby born
Came to mend each heart that's torn!
Gentle Jesus, hope and peace.
Life eternal, thanks to thee.
Repeat chorus
We will worship Christmas day.  
Copyright © 2017 by Sara Lyn Baril. All rights reserved.
NOTE: Upon purchase of digital (PDF) sheet music or MP3s,  you will be sent an email with a DOWNLOAD link.  PLEASE MAKE SURE YOUR EMAIL IS CORRECT so your download doesn't get lost in cyberspace. It must be downloaded to your computer and can be saved to your mobile device from there. If you don't receive this confirmation email, please check your spam folder.
SHEET MUSIC: If you require multiple copies, purchase the number of copies needed. A purchase of 1 copy of sheet music is a license to print ONE copy. Please direct others to purchase their own copies. For home or church purposes, multiple copies can be made for a performance (e.g. vocalists and pianist) with the extra copies to be destroyed afterwards.