Description
This is a song I wrote for my oldest son's baptism. The first verse is about baptism and baptismal covenants and the second verse, about the sacrament and a renewal of these covenants. From the album collection "Come To Know Him". Sheet music is the solo version. Taylee's harmony is her own interpretation, although I have added an alto line in the chorus of the sheet music.
Here are two of my kids singing it:

I Will Remember Him
Today is a rebirth, a beginning.
I will give my heart to Jesus Christ.
I will change my ways to be like my Savior;
So the spirit's light can dwell inside.
I covenant to follow His perfect footsteps
And never forget what He has done for me.
I will remember Him;
Follow where He has been.
If I strive to be faithful
I'll make it home
To His loving arms again.
I have taken upon His name;
I am reborn, I'm not the same.
I will show my Savior
I will remember Him.
Through the sacrament each week, I'll remember
The promise I have made to Him
And recall the sacred day I was baptized
When he cleansed and washed away my sin.
In gratitude I'll follow His perfect footsteps
And never forget the love He has for me!
Chorus
How I love my Savior!
I will remember Him.
Copyright © 2007 by Sara Lyn Baril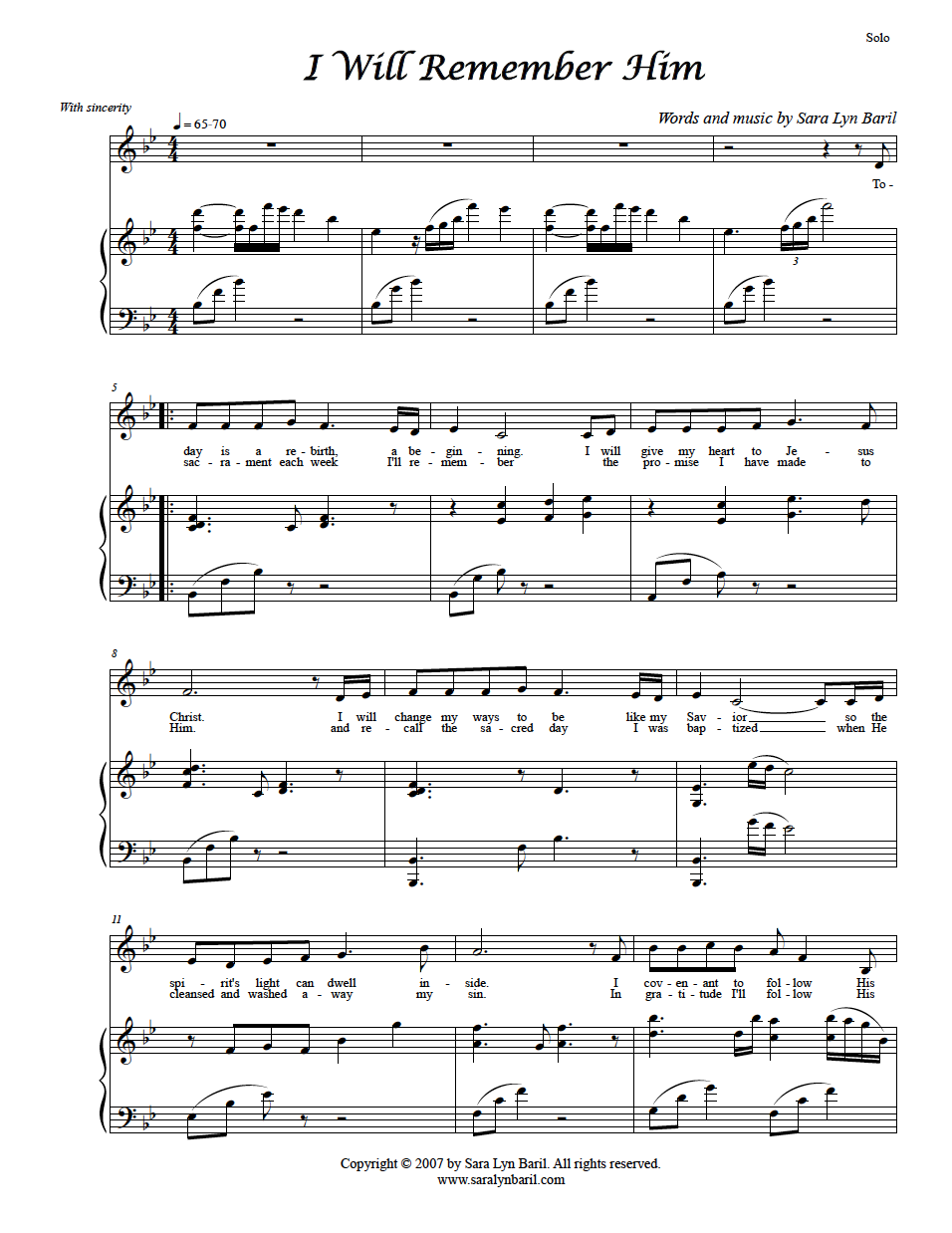 NOTE: Upon purchase of digital (PDF) sheet music or MP3s,  you will be sent an email with a DOWNLOAD link.  PLEASE MAKE SURE YOUR EMAIL IS CORRECT so your download doesn't get lost in cyberspace. It must be downloaded to your computer and can be saved to your mobile device from there. If you don't receive this confirmation email, please check your spam folder.
SHEET MUSIC: If you require multiple copies, purchase the number of copies needed. A purchase of 1 copy of sheet music is a license to print ONE copy. Please direct others to purchase their own copies. For home or church purposes, multiple copies can be made for a performance (e.g. vocalists and pianist) with the extra copies to be destroyed afterwards.