Description
A two-part duet, based on the scripture from Enos in the Book of Mormon, where Enos asks the Lord how it is possible to be forgiven from sin and where the Lord answers that it is through faith.
From the album "Come To Know Him".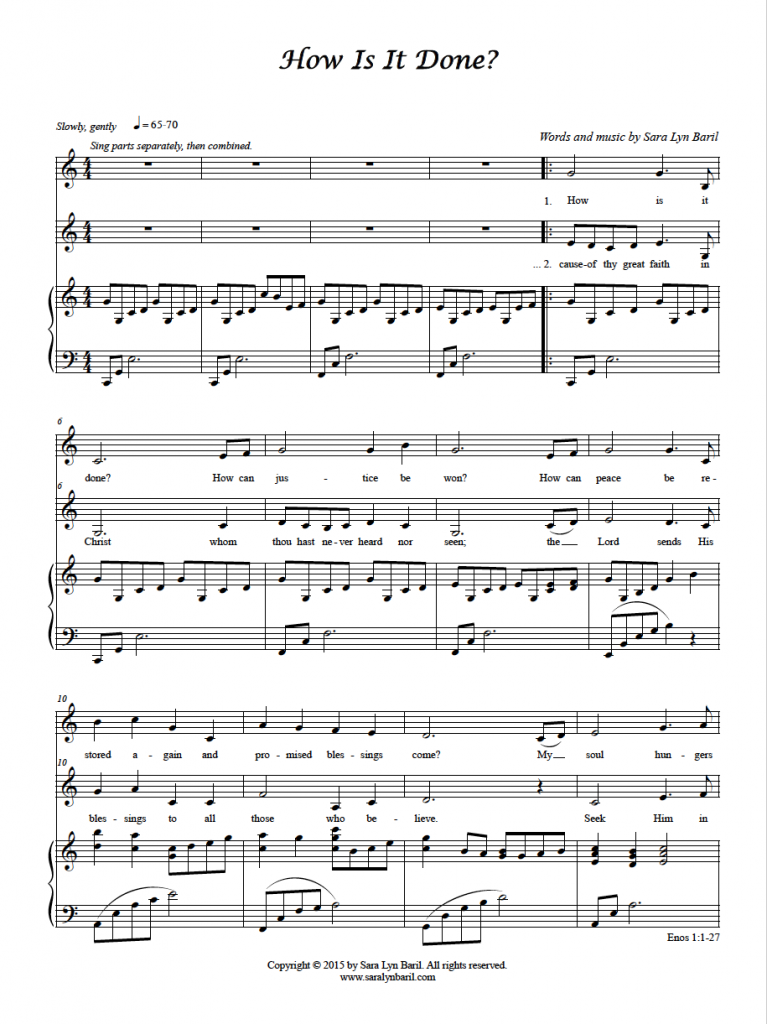 How Is It Done?
How is it done?
How can justice be won?
How can peace be restored again
And promised blessings come?
My soul hungers now
To be filled somehow.
I am learning to trust
In Him for I must come to know how it's done.
Tell me, how is it done?
Because of thy great faith in Christ
Whom thou hast never heard nor seen;
The Lord sends his blessings to all those who believe.
Seek him in prayer. Trust His love.
Follow Him. Live his word.
This is how it is done.
Put your faith in God's Son.
Repeat together
Copyright © 2015 by Sara Lyn Baril. All rights reserved.
NOTE: Upon purchase of digital (PDF) sheet music or MP3s,  you will be sent an email with a DOWNLOAD link.  PLEASE MAKE SURE YOUR EMAIL IS CORRECT so your download doesn't get lost in cyberspace. It must be downloaded to your computer and can be saved to your mobile device from there. If you don't receive this confirmation email, please check your spam folder.
SHEET MUSIC: If you require multiple copies, purchase the number of copies needed. A purchase of 1 copy of sheet music is a license to print ONE copy. Please direct others to purchase their own copies. For home or church purposes, multiple copies can be made for a performance (e.g. vocalists and pianist) with the extra copies to be destroyed afterwards.