Description
NEW song for the 2017 LDS Youth Theme, "Ask In Faith", based on James 1:5-6. This was one of the most enjoyable songs to write! Don't be afraid of the busy accompaniment. There's a pattern and beat that flows beneath a simple melody and message that I know the kids will love! Feel free to experiment with tempos that work for both singers and accompanist, but  most of all, have fun with it! I hope it works well for your ward or stake this year.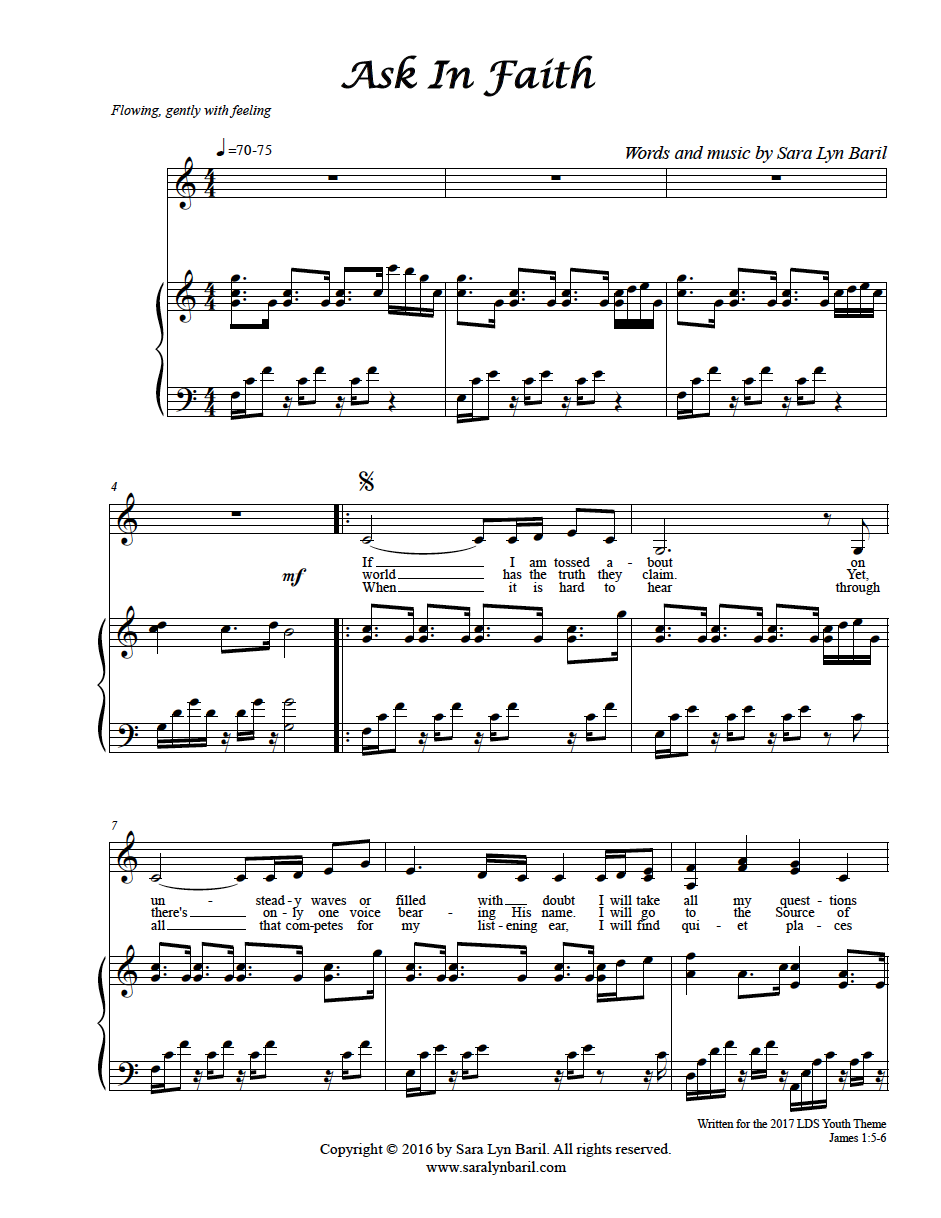 ASK IN FAITH
(James 1:5)
Verse 1
If I am tossed about
On unsteady waves or filled with doubt,
I will take all my questions to the Lord
And pray.
Chorus
I will ask in faith.
I will seek understanding;
For I know He will give liberally.
When its wisdom I lack,
I will ask, nothing wavering,
Always trusting the Lord will answer me.
Verse 2
The world has the truth, they claim.
Yet there's only one voice bearing His name
I will go to the Source of brightest Light
And pray.
Repeat Chorus
Bridge
There's just one simple way to know
Which is the surest path.
Answers will come through humble prayer
When there is faith enough to ask.
Verse 3
When it is hard to hear
Through all that competes for my listening ear,
I will find quiet places where God is
And pray.
Repeat Chorus
I will ask and He'll answer me.
© 2016 by Sara Lyn Baril. All Rights Reserved.

Ask In Faith will remain a free song from now until December 31, 2017. I give my youth song away each year because I love the youth and want nothing more than influence them, if I can, with my music. From writing over the years, I am excited to announce that I now have enough songs to produce another professionally recorded album - all songs for the youth! If you feel so inclined and would like to support my music and this next project, please feel free to donate. Thank you!