Sometimes I have requests to purchase CDs in bulk for YW or Relief Society, or other Church groups, or for gifting purposes. So, here are my bulk prices on CDs. (U.S. pricing and does not include shipping).
1-10: $12 (20% off for Christmas with the coupon code CHRISTMAS2017)
11-24: $8
25-49: $6 
50-99: $5
100+: $4
If you're looking to purchase in bulk, please contact me directly.
Note: Bulk is considered 11+ CDs.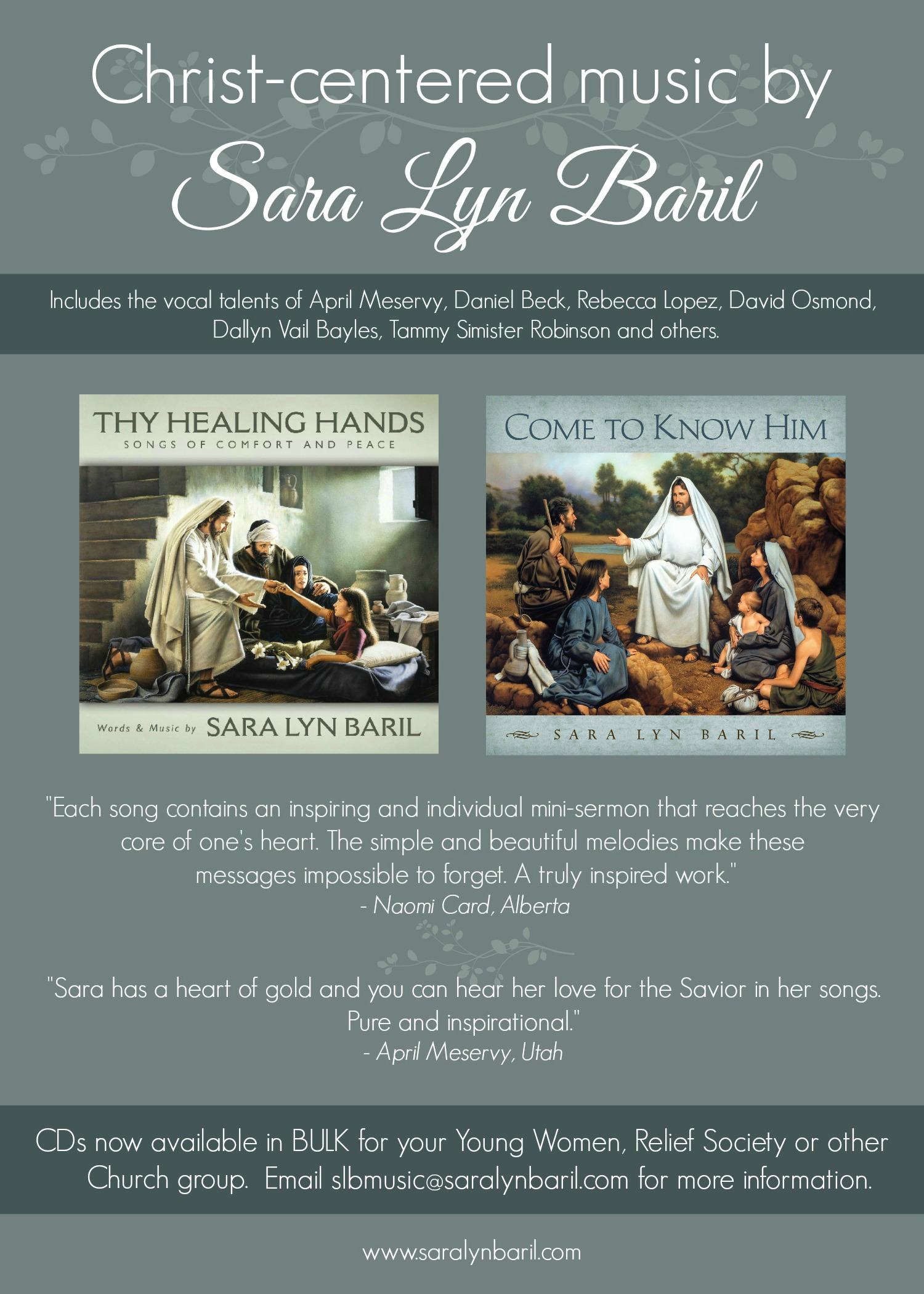 Sample the music from these two albums: 
1. I Believe (feat. Barry Hansen)

Sara Lyn Baril

0:37

2. Thy Healing Hands (feat. Rebecca Lopez)

Sara Lyn Baril

0:47

3. His Love (feat. Sara Bethany Ham)

Sara Lyn Baril

0:36

4. Only Faith (Studio Choir)

Sara Lyn Baril

0:41

5. All Things Testify (feat. Rebecca Lopez)

Sara Lyn Baril

0:37

6. In the Lord's Time (feat. Sara Bethany Ham)

Sara Lyn Baril

0:35

7. A Place to Heal (feat. April Meservy)

Sara Lyn Baril

0:33

8. But a Moment (feat. Dallyn Vail Bayles)

Sara Lyn Baril

0:38

9. Unto the Lord (feat. Tammy Simister Robinson)

Sara Lyn Baril

0:34

10. Savior, More Like Thee (feat. Barry Hansen)

Sara Lyn Baril

0:52

11. Not Far from Home (feat. April Meservy)

Sara Lyn Baril

0:48

12. At His Feet (feat. Rebecca Lopez)

Sara Lyn Baril

0:42
1. Come To Know Him (feat. Daniel Beck)

Sara Lyn Baril

0:42

2. How Is It Done (feat. Traci Ellingson & Jennifer Ehlert)

Sara Lyn Baril

0:40

3. Look To Him (feat. Keith McKay Evans)

Sara Lyn Baril

0:50

4. When Thou Carries Me (feat. Jennifer Ehlert & Sara Lyn Baril)

Sara Lyn Baril

0:50

5. Written In Our Hearts (Youth Choir)

Sara Lyn Baril

0:44

6. I Will Remember Him (feat. Benson Baril)

Sara Lyn Baril

0:43

7. Miracles For Me (feat. Sara Bethany Ham)

Sara Lyn Baril

0:40

8. I Stand All Amazed (feat. David Osmond)

Sara Lyn Baril

0:47

9. Believe (feat. Julie Rose)

Sara Lyn Baril

0:39

10. Closer Than You Know (feat. April Meservy)

Sara Lyn Baril

0:38

11. Help Thou Mine Unbelief (feat. Jennifer Ehlert)

Sara Lyn Baril

0:50

12. I Will Serve Him (feat. Daniel Beck)

Sara Lyn Baril

0:41

13. If Jesus Came Today (feat. April Meservy)

Sara Lyn Baril

0:40